In keeping with a fabulous bed and breakfast getaway, all registered guests receive a delicious complimentary full hot breakfast each morning of their stay. And it's not just any run of the mill breakfast…
Our breakfasts are a decadent affair starting with a buffet of freshly brewed coffee, tea, orange juice, fresh fruit, yogurt, our own Prairie Oats Granola, cereal and our signature freshly baked muffins.
You will then be served a hot breakfast entrée of the day, chosen by our Breakfast Cook. Examples include our Zucchini and Mushroom Frittata with Diced Potatoes and Ham, Bumbleberry Pancakes with Sausages, Eggs Benedict, German Apple Pancakes, Cheddar Chili & Chive Baked Omelet with Bacon, Baked French Toast or Blueberry Pancakes with Sausages or Bacon, just to name a few.
While our hot breakfast entrée menu is 'Chef's Choice' and changes daily, we do our best to cater to special dietary needs or allergies if known in advance.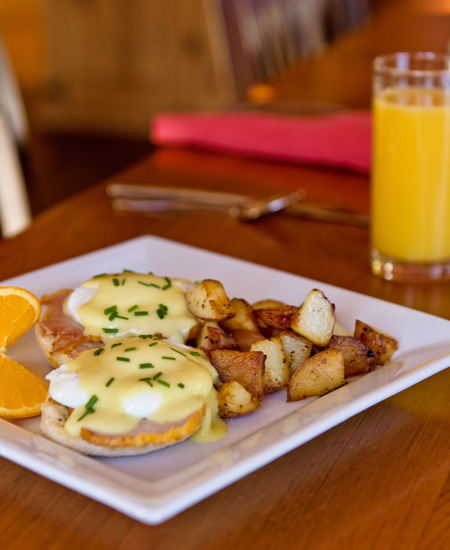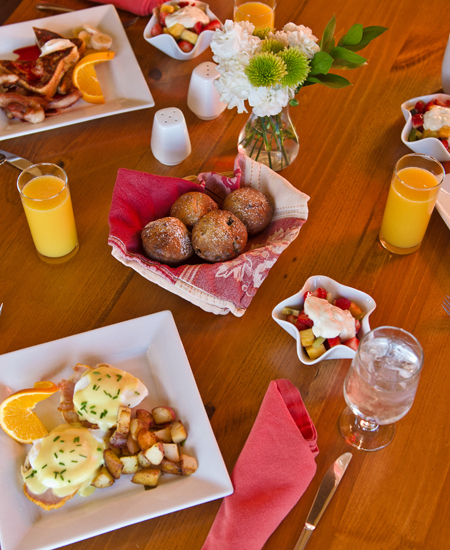 ---
Breakfast in Bed?
Want to be really pampered?
Have your complimentary breakfast delivered on a tray directly to your room for a delivery fee of $15 per room per day. Now that's hospitality at its best!      (24 hours notice is required).